The thought of tearing during child birth is obviously not very appealing and the process of preparing the perineum with regular massaging can be really reassuring. It will help you get used to the feeling of pressure or stretching of the perineum that you experience when your baby is born. It can also help prevent or reduce the amount of tearing.
Ideally you should start practising perineal massage from 34 weeks regularly (sooner if you prefer). 3 or 4 times a week for around 5 minutes each time is a good practise routine to aim for.
You can either do the massage on yourself or your partner can do it for you, whatever you prefer and makes you feel more comfortable.
Make sure that you go to the toilet before hand (this needs to be done with an empty bladder) and wash your hands well. It's helpful if you do this at a time when you're feeling relaxed, maybe after a bath (this is also a good time as the warmth of the water will have helped your muscles relaxed making massage more comfortable), or after listening to one of your hypnosis MP3s.
Set the mood to help you feel as relaxed as possible. Use soft lighting in a place where you feel comfortable and know that you aren't going to be disturbed. Play some music or light a fragrant candle if that helps you relax further.
Use a mirror for the first few times until you feel confident in what you're doing. Find a comfortable position - lying down on the bed, perhaps supported with pillows, sitting, or standing with one leg raised on something (put your foot on the toilet, bath or a chair).
You can use a lubricant to help your fingers move more smoothly and help the massage feel more comfortable. something like vitamin E oil, almond oil or olive oil works well or a water soluble jelly like KY jelly. Don't use vaseline, baby oil or mineral oil.
If you're massaging yourself, you'll probably find it easiest to use your thumbs. If your partner is doing the massing then facing you and using their index fingers maybe easiest.
1. Place your fingers or thumbs into your vagina, about 5 cm in (you can use your 2nd knuckles as a rough guideline).
2. Move each of your thumb/finger in a sweeping motion from right to left and back again, pressing downwards (see diagram below).
Alternatively you can think of a clock and start with your fingers at 12 o'clock, apply pressure and stretch gently, then move to 3 o'clock and do the same, followed by 6 o'clock and 9 o'clock and back to 12 o'clock to complete the circle.
3. As you are doing the massage steadily increase the pressure towards your bottom until you feel a tingling sensation. This will help you to become familiar with the sensation and pressure you'll feel when your baby comes into the world.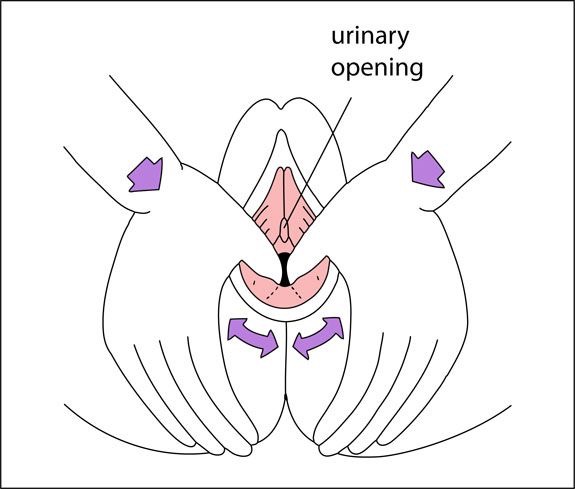 Perineal massage is not for everyone. You may find it uncomfortable or just not want to do it. That's absolutely fine. It should only be practised if it's something you want to do and find helpful.
The more you practise, the more you will get used to the sensation and the more the tissues will stretch.