Hi Kate,

Just wanted to thank you on behalf myself and my partner. We delivered our son yesterday at 16:53. Thanks to your hypnobirthing I had an amazing experience. I was so into the breathing techniques that by the time I got to the hospital I was 8cm dilated. We delivered with no pain relief or gas and air because I felt so into the hypnotherapy. The pushing was only 30 minutes and I had minimal tearing. The experience of birth was painful but manageable thanks to the techniques we worked on. I am so thankful for your course and could not recommend it enough. Especially due to my background of anxiety and the general fear of being a black woman and the pregnancy related deaths. Hope you are doing well and just wanted to let you know how amazing and impactful the course was for us.


many thanks,

Ariana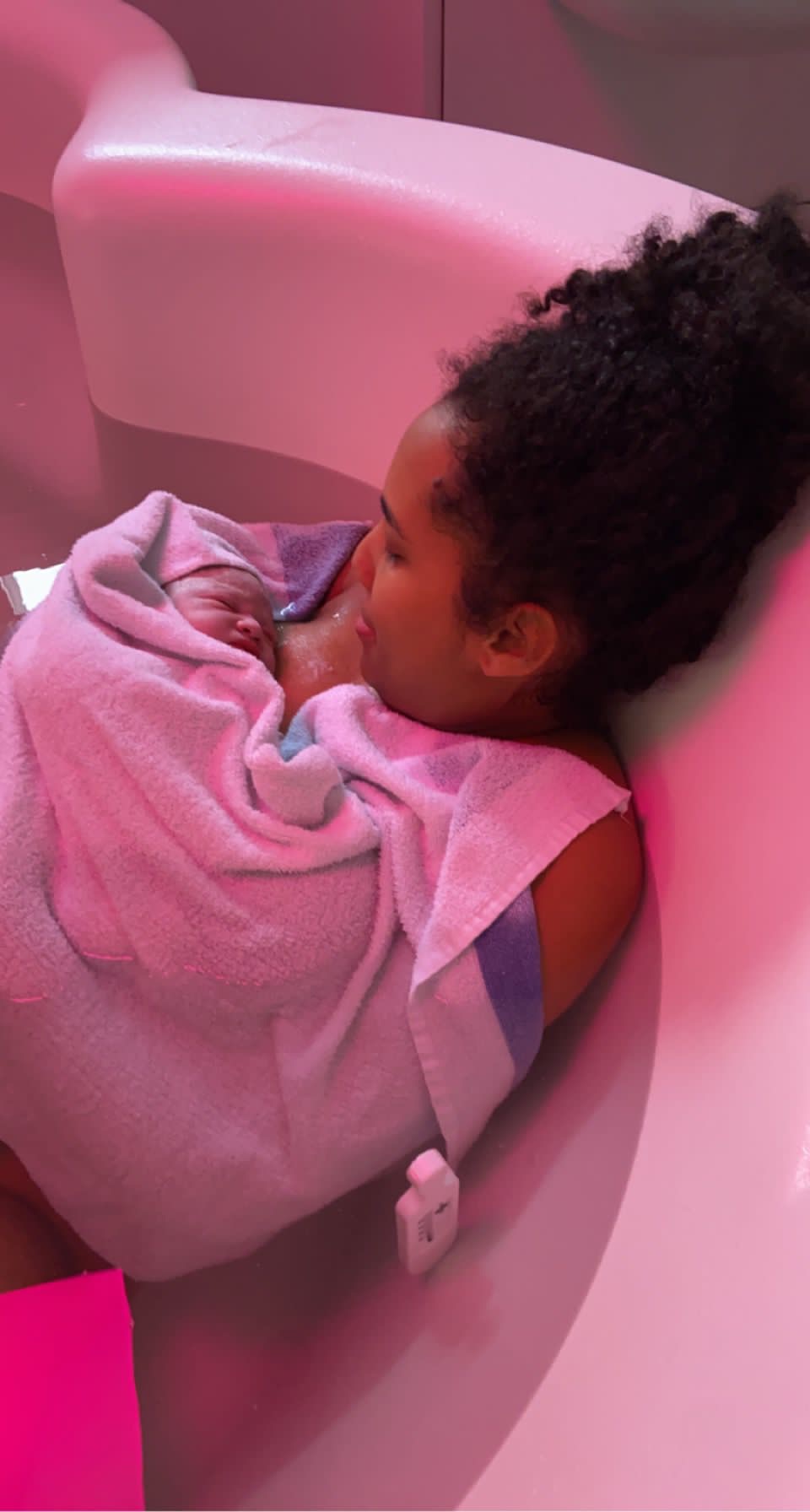 Teddy's birth - a second hypnobirth
My second pregnancy was a strange one. After a really positive first birth of my beautiful Albie I had this weird niggling feeling that "I couldnt get that lucky twice" "I couldnt have TWO amazing birth experiences" the whole way through my pregnancy I was carrying fear that this birth would ruin my first experience, I would have the horrible time EVERYONE else I spoke to talked about and all the positive memories I had from Albies birth would vanish!
6 weeks before due date my fear was at its peak. I was struggling physically with the weight of my bump and I had lost all confidence in my body to achieve another positive birth.
Thats where Kate came in. After doing her hypnobirthing course first time round I realised I could change the direction of this birth and the last few weeks of pregnancy. I started listening to the relaxed birth MP3 and twice a day listened to the Fear Release MP3. This one was the real gamechanger. It forced me to really pinpoint what it was that I was fearing and LET IT GO.
By the time my due date came around I was feeling ready. I knew I could do this and I trusted my body.
After a week of on/off contractions I had a sweep on due date. This triggered my contractions so I tried to ride that wave. I walked home from my sweep listening to Kate's MP3s. I bounced, I bathed and kept those contractions coming. By midnight I was really in the thick of labour. As we left the house for the hospital my waters broke and it was 100% go time. We arrived at the hospital and after a check I was told I was 4cm. I went for a walk around the hallways but rushed back 30mins later to let the midwives know baby was coming. We got to labour ward at around 2am switched on the relaxed birth MP3 and got going. It all happened so fast after that. I let my body relax and slowly guided our beautiful baby into the world. It was even more magical than my first birth, my body was working with me not against me and all 9lb 10 of our Baby Teddy was born with barely a push. No tearing, no stitches just our perfect baby boy. The midwife delivering him could not believe how our birth panned out and nor could we. We really owe both our birth stories to you Kate. Your voice grounds me, brings me back to a calm state, you fill me with confidence that my body can and will birth my babies naturally and calmly. You have given me the greatest gift and second time around meant I can be back on my feet ENJOYING being a mum of 2 quickly and comfortably. THANK YOU KATE from the bottom of my heart. These birth memories will be with me forever.
Lauren
Arthur's birth - a home birth
Hi Kate! Just to let you know that little Arthur arrived early hours of Friday weighing 9lbs. I birthed him at home in living room without any pain relief. I just used my breathing and positive affirmations. I was 3 days overdue and just trying to stay nice and calm and busy. Tom and I went for dinner Thursday night and when we got back I started having some cramping and lower back pain. At 10pm my contractions were about 8 minutes apart and getting very intense and I had to breathe through them using Tom as a support to lean on. At 2am I got into the birthing pool though my midwife had to encourage me to try different positions as I was getting tired and stiff from pushing. In the end I got out of the pool and delivered him in the lounge whilst standing and leaning on Tom. After he came out we waited for white and had lovely skin to skin though due to a tear and some blood loss we were transferred to hospital for suturing I totally went into the zone during birth and Tom was an excellent birthing partner. I was home a few hours later and am loving being in a newborn bubble! Baby is feeding well and I'm recovering well post-birth xxx
Thank you for all your help and encouragement, it really did make all the difference!!
Siwan
Tara's birth - a natural breech delivery
I went into labour at 39+2 at 1.30am when my waters broke in bed. After feeling some period type pain, I felt a trickle of water and before I knew it, I had waddled to the toilet and it kept coming and coming!! I rang the hospital to let them know my waters broke and they told me to get our things together and come into hospital.
It was at that point I decided to get in the shower and wash my hair... I couldn't possibly go into proper labour without fresh clean hair right?! My contradictions had started by then and seemed to be coming more regularly. I definitely felt the water was helping my pain and the distraction was keeping me feeling calm and relaxed.
My husband drove me into hospital around 2.30am where I was starting to double over in pain. I was keen to have a water birth so when we arrived I was disappointed to hear that no pools were available however this did not dishearten me. I was examined and learnt I was already 6cm and after a short time I felt the real need to push.
The only way I can describe it was I zoned out, I didn't have any concept of time or what was going on around me except the task in hand. I felt calm and safe, my husband was being so supportive and being my eyes and ears.
I remember telling myself to listen to my body and with the gas and air I was able to work with my body through the contractions. After an hour of pushing and various different positions a doctor was called to see why things weren't progressing.... it transpired that the 'bald head' I had been pushing out was in fact my daughters bottom... she was in the breech position. At 37 weeks I had a scan which told me she was breech but had been reassured my various midwives since then that she had in fact turned, it seems like that was likely untrue!
After a quick ultrasound the doctor confirmed she was breech and I was rushed into theatre. I was told to stop pushing, which was probably one of the hardest parts of the labour when your body is telling you to do one thing! However I continued to concentrate on my breathing and my husband (who appeared next to me in scrubs) demanded to know what was going on. The doctor told me that it was too late for epidural or c-section and I would have to deliver naturally. I was happy with this, I simply wanted to get on with it.
After more pushing in theatre with gas and air and an audience of 8 other doctors/nurses Tara was born at 6.30am weighing 7lb 10oz. She was checked over and her little legs were folded like deck chairs, bless her. But she was safe, healthy and had a very dark head of hair! I had a small tear which I received stitches for was finally able to hold her.
She was simply perfect. I became a bit famous on the ward as a breech natural birth is quite unusual but I am a real advocate that my body did this and if you have a uncomplicated pregnancy it can be safe.
Without hypnobirthing it may have been a different labour, I could have panicked or become distressed. The affirmations made me believe my body was made to do this and it kept me calm. I really felt like I went into my own little world for those 5 hours.
I cannot thank Kate enough, that one day workshop really made my labour so much better and I always recommend friends to give it a try. If anything it will just help you to be as prepared as possible for any eventuality.
Sofia's birth - a natural birth
Dear Kate
I just wanted to write to let you know that our daughter, Sofia, was born on Sunday 29th November.
My birth experience was very positive and I am so grateful to you and to hypnobirthing for helping me to have such a positive experience to birth my daughter naturally with no medical intervention or drugs, which was very important to me.
Early labour started at 3am on Friday with contractions every 15 minutes, but these were very manageable and I walked, bounced on the birthing ball and listened to the relaxation music to keep me focused and relaxed. On Saturday the contractions continued every 15 minutes or so but were much stronger and so I started using the tens machine to help and took a couple of paracetamol.
On Saturday evening at about 8pm we went to get checked at the hospital. Sofia was monitored and the midwife then said she would check to see how dilated I was but said that I would most likely have to go home as I was far too calm and that contractions were too irregular (my water hadn't broken yet, which is what I had been waiting for). She was VERY surprised that I was 4cm dilated and in established labour and off we went to the birth centre. I was fully dilated about an hour and a half later (another surprise for the midwife) and when I told her I felt like I needed to push she told me to do whatever felt right, which is exactly what I then did. About two hours later Sofia was born. Her head did get stuck and towards the end the midwife was suggesting taking me through to the labour ward, but that only gave me the final burst of energy needed to birth her and she came out all in one go!
The whole way through she was monitored and her heart rate was always completely normal and showed no signs of stress. She did cry very loudly on arrival but then settled quite quickly and had 9 and then 10 on the apgar scale.
I was so proud of myself for being able to give birth naturally and although it wasn't an easy experience, it was tiring and at times I felt that I couldn't go on, I did it and I know that it was because my mind stayed relaxed and focused on what I needed to do as well as listening to and allowing my body to do what it needed to do. I felt no fear or anxiety.
My husband was a tremendous help and support, reminding me to breath, using 3,2,1 relax and the calming breath exercise. The workshop we did with you was what made him feel confident enough to help me through the labour, and I'm so grateful he was there with me, keeping me going. It was an experience that I couldn't have gone through as positively without him.
It's a long email but I just wanted you to know how happy I am that it went as I had planned and that my recovery has been so fast.
Thank you so much. I will definitely be recommending your workshops and hypnobirthing.
All the best
Theresa
Albie's birth - a natural birth
Hi Kate,
Where do I start, what an amazing birth experience I have had!
Last Wednesday at 40+1 I went into monitoring as bubba had reduced movements, and I had a feeling something wasnt right. After 2 hours of monitoring he still had moved an inch.
It all started escalating quickly with midwives and doctors coming in and forcefully recommending an induction.
I took a bit of time for myself and got some lunch. I came back and agreed to a sweep which showed I was 2cm dilated.
They wanted me to stay in hospital and be induced later that day. I knew I wasnt mentally ready to stay so decided to go home and agreed to come back in 4 hours to be induced.
At home I watched a film, did my hair and had the hypno mp3 on repeat getting myself in the zone.
We made our way to St Helier and had an examination at 8pm. I was 3cms dilated and the decision was made to break my waters with the expectation that 4 hours later I would start down the route of induction.
Everything kicked off so quickly the birth relaxation mp3 was put on and I was lucky to move to the birth center and within 40mins I was having 55second contractions every 2 mins.
Due to the reduced movements I had to be moved to labour ward so bubba could be monitored throughout. I went onto gas and air at that point, stayed in upright birth positions and the 20min mp3 was played on repeat non stop until our baby was born at 12.52am. Our midwives used massage on my back and Sam counted my breathing throughout.
I honestly went into birth feeling so confident in my body, having really embraced the mp3s and listening everyday. I believed my body could do it and my god it did! It was literally my perfect birth I couldn't have felt more in control of the whole process and my body. I can't thank you enough.
Lots of Love
Laura, Sam & Albie xx
Charlie's birth - 2nd time Mum (after difficult 1st birth)
Hi Kate
I hope you are well! Just wanted to send you an update that our second son Charlie was born on 4th February (40+2 weeks) at 22.39 weighing 3.4kg and 52cm!
Everything went really well. I was doing the Hypnobirthing tape daily from about 36 weeks onwards, alternating with the relaxation tape and fear release tape. After 39 weeks I did two sessions of reflexology to speed things along naturally. The labour started around midnight between Saturday and Sunday, I started having mild contractions about every 30 mins. They lasted through the night and the following day. I was up as much as possible, we want for a long walk and shopping in the morning, and for another walk at about 5pm. At 7.30pm the contractions became regular every 5-10 mins, and more intense so I asked Amos to set up the tens-machine. That helped a lot with the pain but at 8.30pm we rang the hospital to ask for advice when should we come in. They said to wait until the contractions were every 2-3 minutes or if I can't manage at home anymore. We waited another 30 minutes but then decided to go for a check. The contractions were more intense but still only 4-5 minutes apart. I was managing well with the breathing and tens. We got to the hospital around 9.30pm and got set up in the birthing suite. They decided to give me time to settle in before doing a check, as they suspected I was still in early stages of labour (maybe because I was breathing so calmly!). I kept walking around the room, listening to the Hypnobirthing song on loop, and during contractions I went on all fours leaning onto the chair. After about 40 minutes I felt the first urge to push so I asked Amos to call the midwife. She came in and decided to check me (for the first time), and turned out I was already 9cm dilated. I told Amos to go get the hospital back that we had left in the car as we thought they will send us back home…. But the midwife advised Amos that he should stay put - this won't take long! Because I had had the 3rd degree tear during my last labour, I wasn't allowed to have a water birth and I needed perineal support during the 2nd stage. Another midwife came in, I laid on my left side and when my body started pushing, I went along with it. They used warm flannels to stretch the tissue and I did have to hold back with the pushing urge a few times to give the tissue time to stretch. As he was coming out, he had his fists on the sides of his head, so the midwives made a quick decision to do an episiotomy towards the side to prevent further tear towards the back. He was born on the next contraction and luckily I didn't have any tears. The second stage lasted 14 minutes and in total we were in the hospital for about an hour before he was born! I felt great after the labour, and was up on my feet as soon as the epi cut was stitched up. The baby was doing well and started feeding within 20 minutes of being born. I still can't believe how well everything went. It was the labour that I was hoping to have!
We wanted to say a big thank you for the course and all the advice you gave us. Hypnobirthing really is amazing. Even on the day of the labour I had some niggling doubts whether I can do this… but once the labour was happening, all that preparation kicked in and I was just concentrating on the breathing and letting my body take control.
Kind regards
Paula, Amos, Maxie and baby Charlie
Finn's birth - A positive induction
Hi Kate,
I just wanted to say a massive thank you!!!
Our gorgeous baby Finn arrived at midday on 24th October (how is he already nearly a week old?!).
I went almost 2 weeks over due and had to be induced. I started with a pessary at 1pm on the 23rd and was able to go home for a few hours. Contractions started about 5pm, but were manageable and I was happily progressing at home. Unfortunately The pessary fell out at 8pm and we had to go back in to hospital.
I was stuck to a bed and monitor while we had another pessary put in. My contractions went crazy (non stop and intense). Every midwife was amazed I was breathing through them and not screaming for drugs. They said I was a 'silent labourer' and were amazed at how I handled things.
They were even more amazed when my waters broke on their own at 5am and I didn't need the induction drip. When the pessary then came out I felt a million times better as my body was allowed to do it's own thing and work with my baby.
I was moved to a delivery room and started using gas and air, as unfortunately had to be monitored on the bed continuously. But still things progressed so well and quickly I was allowed to go to the midwife unit and finally freedom to move ???? we moved at about 9:30am and as soon as I could get on the ball, walk and really focus on my contractions things really sped up! I went from 5cm to baby in my arms in just over 2 hours.
They got a birth pool ready for me and very quickly I felt the urge to push. I gave birth exactly how I wanted to and felt so proud and happy. Everyone keeps telling me how very rare it is to go from an induction labour to water birth with just gas and air.
I had some bad tearing and Finn had the cord round his neck and needed resuscitation but all is well now.
Hypnobirthing helped me so much and gave me the best birth experience. After listening to your MP3s every day in the lead up to birth I know they helped me stay so calm and focused and not lose sight of my goals. Every midwife commented on how well I managed the process and the pain and respected that we were hypnobirthing. I felt empowered, confident and in control throughout.
It's the best thing I did while pregnant and I loved my birth experience. I have a super content and relaxed baby too. His heart rate during birth never went up - he was so happy and relaxed and still is now he's in the outside world.
While in theatre having my stitches done I was asked if I would have another baby and I immediately said yes! My midwife said that's testimony to how good my birth must have been ????
Thank you again!!!
Carina
Alice's birth - in Italy (with a language barrier)
Hi Kate
I just wanted to let you know that our little Alice was born on Tuesday August 22nd, her due date!
She was born in the hospital, I gave birth to her with no pain relief or interventions. The first part of the labour I was in the water but had to get out for the pushing stage.
I listened to your main hypnobirthing track on a loop throughout the contractions and used visualisations and it helped so much! That part was very calm and special, the bath was by the window and we were able to watch the sun rise over the mountains by lake Como!
The pushing stage was far more intense than I expected after having had gas and air last time, I couldn't concentrate on the relaxation so put music on instead but still used visualisations as much as I could.
My midwife was amazing, she loved my visual birth plan! After Alice was born she didn't ask Dan to cut the cord until it had gone completely white, and I was left to have skin to skin bonding and breastfeeding straight away for at least 2 hours before she was weighed etc. All of this was because of the visual birth plan as I don't think its normal practice here so thank you for your advice on that.
Thanks so much Kate your course made a huge difference for me!
Lucy, Dan, Dylan and Alice xx
Arthur's birth - birth centre
Hi Kate!
I just wanted to email you to let you know that on Christmas Eve at 8:59am I gave birth to the lovely little Arthur. He weighed 7lbs6oz and arrived 13 days early!
I had him in the Birth Centre surrounded by a really supportive team of midwives. The hypnobirthing proved so so so helpful, both during preparation of birth and during. In fact I gave birth whilst the tracks were playing in the background. Hearing the affirmations between my contractions helped so so much, and gave me the confidence I needed. The breathing techniques also helped.
Labour was very quick- my waters randomly broke at 2:00am whilst I was in bed and I had him 7 hours later.
The Positive Birth Book you gave me was also BRILLIANT! I created a Visual Birth Plan using their icon templates :)
Unfortunately I tore pretty badly and needed surgery after, but I had the birth experience I wanted.
I just wanted to thank you so much for the classes. I honestly don't think I would have had such a quick and relatively calm birth without the techniques I learned through hypnobirthing. I honestly would recommend it to anyone! It gave me the confidence in my body that I needed.
Thank you!!
Lauren, Chris and Arthur
Xxx
Leo's birth - a dad's perspective
Dear Kate,
We're on day 5 and just reflecting on the labour.
We played the hypnobirth mp3 two hours after contractions started and kept it on solidly until he was born two hours later.
Sarah was completely in the zone from beginning to end, with no pain relief. We used breathing techniques and the course helped us preaper to mentally and took away the fear. For me, it was great to feel comfortable with a role where I could be there for Sarah and breathe with her. And I've continued to do so with Leo to calm him.
Thank you so much.
Best wishes,
Krisnah
Beatrice's birth - a c-section
Hi Kate,
I wanted to update you with how life has progressed for us since we attended your hypnobirthing session in April.
Not long after I was diagnosed with obstetric cholestasis (a liver condition caused by pregnancy). As a result I had weekly visits to the hospital for tests and monitoring. I was informed by the medical team that they advise delivery of baby by 38 weeks to reduce the risk of still birth.
This obviously all put a very different slant on what we had anticipated our birth experience to be! We discussed with the medical team what that would look like and they were very knowledgeable and informed us that I would continue to be monitored, but the 1st June would be the last date I should have in my mind to deliver baby. They explained that the process would involve being induced and I would need to be in the high dependency unit of the delivery suite. A far cry from the water birth and birthing suite I had hoped to use at the Carmen suite of St Georges.
We listened to everything they had to say, and ultimately agreed that the proposals being made were the best and safest for our baby and me.
We used your MP3s almost daily to help with the anxiety and concern caused by this which was a huge help. Friends and colleagues couldn't believe how calm I was being about everything. It also meant bringing my maternity leave forwards by two weeks which in itself creates pressure with work, as it meant I finished up pretty quickly. I felt this was important though as it still gave me just under two weeks to mentally prepare for what was ahead of me.
So, there were a few bumps in the road with advice of being induced immediately due to blood results, which got overturned by a consultant last minute. But, all in all, we were able to take every moment in our stride and focus on the safe arrival of our daughter. With the medical situation, it also meant that I could mentally prepare more for what was going to happen, rather than have any surprises on the day! I wrote my birth plan which was much more focussed because some of it had almost been written for me.
When the 1st June came, we calmly arrived at the hospital for the time that we had been informed to. The care I received was incredible and the knowledge and expertise of the midwife teams were like no other. They were so kind and kept me informed of everything they were doing. They attempted to induce my labour with a pessary for 24 hours. On inspection the next day, the pessary had not made any difference to my cervix so we tried round 2.
Again, 24 hours later, minimal change. So, by this time we could tell that my body was just not having it and not going into labour. I listened to the MP3s several times during the 2.5 days which were great at keeping me calm.
We had an honest conversation with the consultant and we agreed that the safest option for all would be for a c-section.
So, on the 4th June, we calmly walked into theatre where I was given a spinal block. Three minutes into the procedure (the doctor saying "knife to skin") our beautiful, healthy baby girl, Beatrice Agnes was born weighing 6.7lbs.
Although there was far more medical intervention than we hoped. The whole experience was very positive and without a doubt, the hypnobirthing helped. Iain and I used relaxing breathing techniques and methods we had learnt with you to keep me calm throughout my time in hospital but also in the theatre.
Thank you for all your guidance and support to enable this to happen for us.
Kind regards,
Abi
Penelope's birth - a natural birth
Hi Kate,
Hope you are well.
I am so happy to let you know that I welcomed a baby daughter on Monday 8th May. We have named her Penelope Rose. We are so in love with her.
I could not have got through the labour without using the techniques you taught us on the course. I managed to have a natural birth and only got on the gas and air when I was 10cm!
In the run up to my due date I listened to the mp3's each day and that really helped me to keep my anxiety at bay and to keep me feeling positive.
On the way to the hospital I was listening to the birthing script and I was completely zoned out and calm.
I'm so pleased that we did the course and would recommend to any mum's and dads to be!
Thanks again for all your help and support.
Louise & Steve x
Scarlett's birth - a natural birth
Dear Kate
We just wanted to drop you a line to thank you so much for all your training and advice on the hypnobirthing course.
Scarlett was born yesterday morning in the birthing centre, a week overdue. All natural - no pain relief other than gas and air and no interventions.
Thanks to hypnobirthing I was able to manage at home really well - in fact the only little drama was that I got to full dilation at home and then couldn't make it to car so had to have an ambulance! It was so much better to go through it all at home though and meant when it got to the toughest bit I was calm and had more energy for it.
In terms of being a team, Peter and I really pulled together and we are sure that is at least in part because of the work we did with you.
Scarlett has been very chilled out so far and my mum is convinced it is because it was a calm birth.
I have recommended hypnobirthing to a number of friends and just wanted to let you know how we got on and to express our gratitude to you.
Very best wishes
Fiona, Peter and Scarlett!
Amelie's birth - a positive induction
Hi Kate,
I hope you are well. I came on your one day course a couple of months ago. I just wanted to say thanks.
My baby girl Amelie came early at 34 weeks. My waters broke a week before this and I was in hospital for a week. Due to an infection I couldn't have the water birth I wanted or give birth in the birthing centre. I only started listening to the hypnobirthing track every day a week before the birth in the hospital.
I ended up being induced and once in the delivery room Harrie put on the hypnobirthing track and it was amazing how it helped me get into my zone. I gave birth two hours later with just gas and air. Everything about the birth was opposite to how I wanted it but the hypnobirthing really helped me stay calm and have the best birth I could.
Thanks again
Ziekelle
Isabelle's birth - a positive induction
Hi Kate,
I wanted to thank you again for your help and advice. I ended up being induced last saturday afternoon and my waters broke on sunday morning. Unfortunately my baby had pooed in the uterus which changed the ability for me to go into labour naturally. I was given the syntocin drip and for 5 hours used nothing but my hypnobirthing techniques. The midwives still say they have no idea how I was able to cope so long with the strength of contractions I was having with no relief. I ensured the room was dark, I had my mood lighting and my hypnobirthing tracks and was able to get into the zone. Unfortunately the birth didn't progress quickly enough so when they increased the drip further I knew my body was exhausted and couldn't take anymore so I had an epidural, thank goodness.
The result however, was a beautiful baby girl born on monday 21st January at 5.33am called Isabelle. I've attached a photo both of Isabelle and also of me during labour which my husband took.
When I first emailed I was in a pretty bad place and was so worried about being induced but was able to have a much more positive birth experience using the techniques I learnt from you. Although it wasn't a straight forward birth, or what I had ideally planned, I'm able to look back at it as an incredible time which saw the safe arrival of my daughter, for which I have to thank you for.
Sorry for the long email - blame the hormones ☺️
Thanks again
Jess
Kate,
I hope you're well?
Just to let you know I had baby Thomas on Saturday!
I had such a positive experience using the hypnobirthing techniques!
My Waters broke on Thursday night at 10pm and started contractions at 5am Friday morning. We Spent the day at home - went for a coffee in the morning and did 3 loads of washing! - then as afternoon progressed we made the living room dark and "mammal like!" and listened to the hypno birthing music and talks over and over until 7pm. I was getting contractions every 5 to 3 min apart when we decided to go in - we got to the hospital around 8pm - they wouldn't let me go in the birthing suite as I almost over 24 hrs since my waters breaking.
Anyway they sent me home as I wasn't dilated at all! That was a bitter pill to swallow - however we went home ran a bath and I sat in it - applying the 321 relax to all my contractions - in the dark for the next 1.5 hours whilst Andrew sat with me. The serious phase was well and truly upon us!
When we arrived at the hospital, at 12am I was full dilated and ready to push! No time for any drugs!
Whilst pushing they noticed Thomas' heart rate was dropping and the doctor wanted to ventouse him out - whilst the midwife said it was my monitor interfering with the baby's monitor.
I have to say the stuff we learned on the course really helped with this part as we felt strong enough and knowledgable to say "No"to the doctor and asked for more time (as we felt sure Thomas was ok - and I felt ok to carry on without help!)
My midwife was amazing and her belief in me helped tremendously in being able to deliver Thomas safe/happy and they way we wanted it to be.
Just knowing the phases and applying the techniques to the labour and getting him out was vital in making the whole process more manageable and controllable!
Kate thank you so much for your teaching!
Sam
X